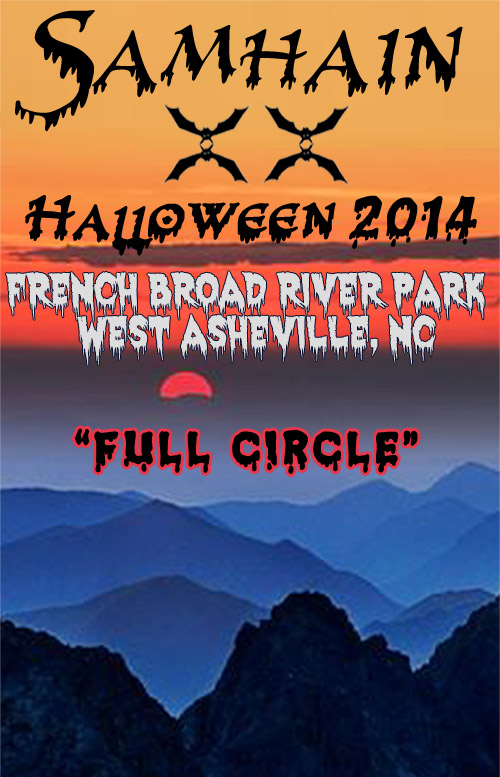 Asheville's 20th Annual Free Public Witch Ritual on Samhain (Halloween), French Broad River Park, West Asheville, North Carolina
Photos
Photos by Rowan Greenleaf, T. Moore, and *Diuvei.
Video
Initiate Eyebright ably animating the Coven's Mast Beast Ol' Charmer.
Story
Blessings
We were pleased to have expert singing, drumming, and décor set-up and pack-up help from folk who'd attended many, many years of our rites. They were pros who required minimal direction and who inspired happy camaraderie all day.
The Gods Favored the Brave
Despite T.V. predictions of dire weather, fans drove to participate in North Carolina from Southeastern states as far away as Missouri, West Virginia, Georgia, Florida, etc.
Old and young circled hand-to-hand in a Witchy drizzle, and were rewarded with hemp and gemstone jewelry prizes for achievements such as having attended the most Samhain rites. The Spiral Dance finale to the gypsy tune of Rusty Nails was warm, poignant, and empowering.
At the Afterparty for volunteers, we enjoyed a Covenstead full of guests who ate, imbibed, and expressed their opinions regarding various philosophical conundrums.
Lyke Wake Dirge, theme song of Samhain XX (.mp3, instrumental arrangement by *Diuvei & his Technogremlins)
At Rite's End
Samhain XX: Full Circle was Coven Oldenwilde's last outdoor public Samhain ritual for now. In an announcement at the rite's conclusion, we encouraged others to continue the tradition we established of conducting an outdoor annual traditional public Witch ritual locally or wherever they may bide.
We've elected to surrender pride of place because we believe in the importance of giving others the opportunity to enjoy pleasing the Gods and acting as agents of positive change. We want to exhort those with youthful energy to host the kind of free harvest celebrations in honor of the immortal dead that folk have enjoyed around the world for countless thousands of years — in defiance of attempts by puritanical religions to suppress such gatherings. After all, there's no way for the next generation of Pagans to learn how to lead public rituals other than by doing.
We provide lots of invaluable how-to advice on conducting public rituals:
Open Invitation
We are thrilled to have successfully hosted 20 years of free, public, creative rituals, and encourage any Coven or group to perpetuate similar Pagan traditions of circling, dancing, and raucous revelry.
"Witchdots" of Yore
Our Samhain Public Ritual logo has evolved over the last two decades along with our website.
| | | | |
| --- | --- | --- | --- |
| | | | |
| 1996 | 1997 | 2001 | 2002 |
| | | | |
| 2003 | 2004 | 2005 | 2007 |