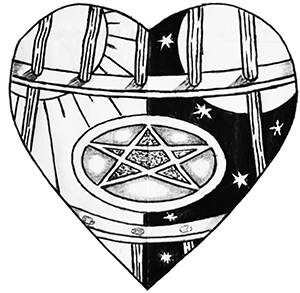 "Pagans Behind the Iron Veil" by Cirnunnoz S. Cian
Lady Passion answers innumerable letters from persecuted Pagan and Wiccan inmates nationwide requesting advocacy, guidance, and sponsorship, as well as from chaplains seeking info about the Olde Religion.
Email the High Priestess; call her at (828) 251-0343 (no collect calls, please); or include an S.A.S.E. in a mailed query letter. (Obtain Coven Oldenwilde's mailing address from Lady Passion or the ACLU's Prisoners' Assistance Directory.)
Pagan & Wiccan Prisoner Advocacy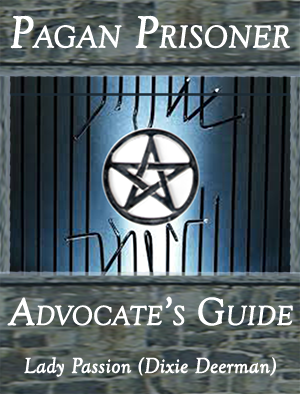 Free download:
Pagan Prisoner Advocate's Guide
In 1995, responding to an Asheville-area convict's request for spiritual counsel, Lady Passion & *Diuvei became certified as Pagan/Wiccan clergy by the NC Department of Corrections. We've taught, circled with, and successfully advocated for inmate religious rights ever since.
Wiccan Prisoner Advocacy
Is Worthwhile Because:
Pagan practices are targeted for penalization.

For example, 1 out of every 8 U.S. prisoners is incarcerated for cannabis, according to recent Dept. of Justice statistics. Pagans believe that it's wrong to exterminate or criminalize such a helpful plant.

But for the grace of the Gods, imprisonment could happen to any of us.

America imprisons more of its citizens than any other developed country on the planet.

We've seen illegal denials of rights on a shameful national scale.

When a Wiccan inmate or group seeks legal recourse to exercise their Consitutionally guaranteed freedom of religion, bigoted prison personnel often slap them with reprisals such as solitary confinement, seizure of religious items, and malicious transfer.

Inmates who seek aid from Pagans are oft ignored or rebuffed.

Forced into de facto monasticism, Pagan inmates live their religion at great personal risk — only to be rewarded with rejection by free Pagans who don't deign to respond compassionately to their pleas. Such neglect can sour inmates on the Path and make them prone to the manipulative ministrations of evangelizing monotheists who are all too happy to fill the void.

Wiccan spirituality prevents inmate recidivism.

Whereas "jailhouse conversion" to Christianity or Islam yields dismal results, prisoners who embrace and practice Pagan tenets rarely become re-incarcerated. They recognize that the personal spiritual growth the Craft of the Wise uniquely fosters is pivotal to maintaining their sanity and ensuring that they will be able to contribute to society in the future.

The majority of inmates are well meaning and grateful for aid.

They mail us art, crafts, pictures, and heartfelt thanks for our efforts on their behalf.
(Visit Coven Oldenwilde's Wiccan Prisoner Art Gallery.)
Services Lady Passion Provides Pagan/Wiccan Inmates:

Read, download, print, and mail Pagan/Wiccan inmate friends or relatives a
letter of information detailing Lady Passion's qualifications & services, and their religious rights.

Read Lady Passion's commentary on
how we compelled Virginia's Dept. of Corrections to allow prisoners to keep and use Tarot cards
.

The U.S. Supreme Court has unanimously ruled that
prisoners who are Wiccan have the same rights to practice their religion as any others
. The Court's ruling upholding the Religious Land Use and Institutionalized Persons Act (RLUIPA) means that any prison or institution receiving federal funds must grant full and equal rights to all inmates to practice their religion — specifically including Wicca.
*Diuvei has compiled a packet of legal rulings and texts of laws (including RLUIPA) for Wiccan prisoners, their advocates, and prison officials to read and download.


The U.S. Bureau of Prisons authorizes
Wiccan inmates at all federal prisons to possess certain religious items
.
Advocacy

with prison officials and investigative agencies such as the ACLU and Justice Department

Coaching

inmates through the demoralizing prison experience and transition to release

Information

about Paganism, Wicca, and religious rights

Legal advice

on how to successfully navigate the grievance and lawsuit process

Spiritual guidance

answering magical questions about spells, ritual, worship, tools, etc.

Sponsorship

of individuals, study groups, and practicing prison Covens

Study materials

including how to obtain The Goodly Spellbook: Olde Spells for Modern Problems and free printable materials at oldenwilde.org and oldenworks.org

Referrals

to sites and guides that list Pagans and Wiccans in the inmate's area who might be willing to circle with them

Teaching

how to practice behind bars, and how to form and maintain a study group or practicing prison Coven
Help Lady Passion Serve This Vulnerable Pagan Population
Frequent state budget cuts decimate spiritual services allowed inmates by law. Privately owned prisons-for-profit aren't legally bound to accord inmates rights allowed by federal law. Prison officials and chaplains are often rigidly fundamentalist Christians who try to use their extreme autonomy and power over prisoners' daily lives to suppress what they view as the "sin" of Witchcraft. These are some of the reasons why prejudice, ignorance, and persecution continue to dominate the American penal system's treatment of Pagan prisoners.
To our knowledge, no other Coven consistently advocates for Pagan and Wiccan inmates — perhaps because this labor of love is an expensive endeavor: Printing paper and ink, electricity, postage, and envelopes are but a few of the expenditures it requires.
Time spent typing responses, saving inmate files, researching laws, rights, and policies, emailing boards and agencies to advocate for inmates, and writing about Pagan prisoner repression — well, if "time is money," then the monetary value of it all is incalculable.
To aid anyone who feels as she feels, Lady Passion has written the Pagan Prisoner Advocate's Guide, a guide to aiding and advocating for Pagan and Wiccan inmates and institutionalized persons.
Enable Coven Oldenwilde to continue educating, counseling, & advocating for Pagan/Wiccan inmates. Make a tax-deductible donation today!