About Lady Passion

Lady Passion (Dixie Deerman) has practiced Witchcraft since 1976. Her magical name derives from Lady, a title earned when a female Witch attains Third Degree, and Passion, which describes her yen for all things magical.
Lady Passion is a Third-degree Gardnerian Elder in the California Line, and High Priestess of Coven Oldenwilde in Asheville, NC. She was Initiated by Lady Runach & Morgann of Coven Trismegiston on June 11, 1995, and Elevated to the Sublime & Ultimate Third Degree by *Diuvei on Feb. 25, 1998.
Her magical specialties are all forms of divination, herbalism, and creating elaborate rituals for thousands. She has done divination for private clients since 1979. A healer and Registered Nurse since 1988, she won the right for nurses not to be fired for giving loyalty to their patient priority over loyalty to a hospital or doctor, in Deerman v. Beverly California Corporation (see here and here).
Lady Passion's Faves:
Motto: "Let none stop you, or turn you aside." ­ Aradia, 1300s
Movies: The Wickerman; Practical Magic; Sorceress
Books: Lost Country Life; Gerard's Herbal; The Greek Magical Papyri including the Demotic Translations
About *Diuvei

*Diuvei (Steven Rasmussen) means "sky God" in the ancient language Oscan; here's why a star precedes his name.
*Diuvei is a Third-degree Gardnerian Elder in the California Line, and High Priest of Coven Oldenwilde. He was Initiated by Lady Bhride & Morgann of Coven Tobar Bhride on June 25, 1988, and Elevated to the Sublime & Ultimate Third Degree by Lady Maeve & Niklas of Coven Triskell on May 27, 1992.
His magical specialties are astrology, music, and wordcraft — each of which he has also plied in the mundane world as a professional astrologer, computer musicologist, and journalist for an alt-weekly newspaper. (Browse his articles, commentaries, and résumé.)
Read his essay on the Quadrivium, the crossroads that unites math, music, astrology, & geometry.
*Diuvei's Faves:
Motto: "Words are cheap, but deeds are dear."
Movies: The Crucible; Star Trek: Insurrection; The Man Who Would Be King
Books: Agrippa's Three Books of Occult Philosophy; Robert Fludd, by Joscelyn Godwin; Plato's Republic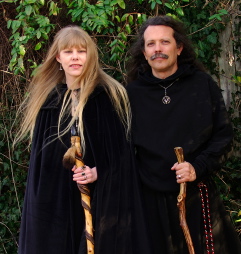 A formidable pair: In our thirties and committed to the Craft, we were both still looking for that strong, Witchy, someone special when we attended the Covenant of the Goddess's MerryMeet '93 gathering at Lake Lure in Black Mountain, North Carolina. Lady Passion had brought her daughter along in an effort to branch out and meet other Witches from all over the country. *Diuvei flew in with fellow Covenmates from California, expressly because he'd heard tales of the prowess of Witches from the Southern mountain area. *Diuvei fell in love with Lady Passion when he saw how compassionately she helped someone's feral child. But it was our shared devotion to the Goddess Hecate that sealed our bond. We began a bi-coastal romance. A year later, after *Diuvei traded Berkeley for Asheville, we were handfasted in a sacred woodhenge in the rainforest of Tennessee.
We founded Coven Oldenwilde, a Traditional English Gardnerian/Italian Strega blend, on Samhain, 1994. We are both legally empowered to "marry and bury", and perform all Wiccan Rites of Passage ceremonies.
We are open, public Witches highly utilized by area folk and in high demand by film crews. As of 2004, we've held 10 annual free public Samhain Sabbats attended by untold numbers of people. We write about Witchcraft (buy our book The Goodly Spellbook: Olde Spells for Modern Problems), lecture at area colleges and for groups including everyone from police to Mensa members, and have been Wiccan clergy for Buncombe Correctional Center for 10 years as of 2005. We advocate for peace and justice, counsel and aid the needy, maintain this web site, run our 501(c)(3) religious non-profit, and help nurture the Asheville area's rapidly growing Craft community. It is hard, but goodly work.
We require no fees from our students or clients for our Craft work, but happily accept donations to our non-profit Coven, which enable us to aid others. We actively oppose religious persecution (as in our successful struggle to get our state's 50-year-old anti-divination law expunged). We often find the mundane world's ways of greed, force, and hypocrisy difficult to deal with, and frequently dangerous to accept. So we continue to be what we are: Witches -- spelling for a better time to come.
---

Find out about our media experience.
---

Listen to part of a
chant
composed and sung by Passion, accompanied on a Hindu recorder by *Diuvei.
196KB, .aiff format
Deep in the darkness of every human mind,
There's a magical child,
a spirit running wild --
Up from the depths
it comes a-bubbling and boiling,
Oldenwilde...
old and wild!
---

Return to "Meet the Coven Members" page
.

Return to Coven Oldenwilde's home page.
---
Latest update: 24 Jan. 2017